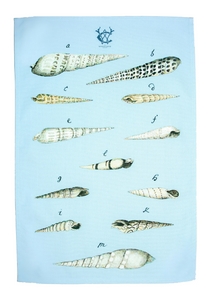 Highlights
Handmade

Dispatches from a small business in the United Kingdom
Description:
Beautiful tea towel designed using a Spire Mollusc by George Gottlieb Plato illustrated in the mid-1700s. Plato was German and a member of the Bavarian Academy of Sciences. These originate from the 2 volume Conchological Collection of Mollusc Shells.
It is digitally printed onto 100% quality half Panama cotton fabric producing a stunning and hard wearing tea towel.
Hanging loop in the top left-hand corner
Dimensions 50cm x 70cm
Care instructions:
Machine wash at 40 degrees, tumble or air dry, and iron on reverse as needed.
DESIGNED, PRINTED AND MADE IN THE UK
PLEASE ENQUIRE REGARDING POSTAGE OUTSIDE THE UK